Middle
School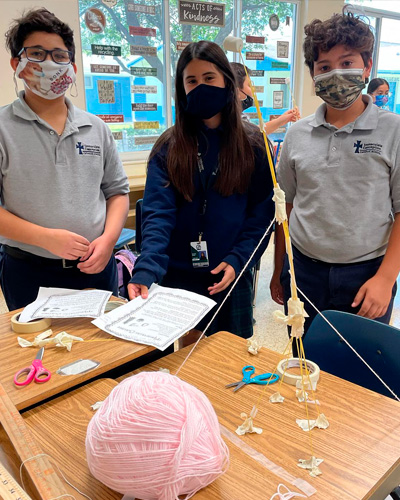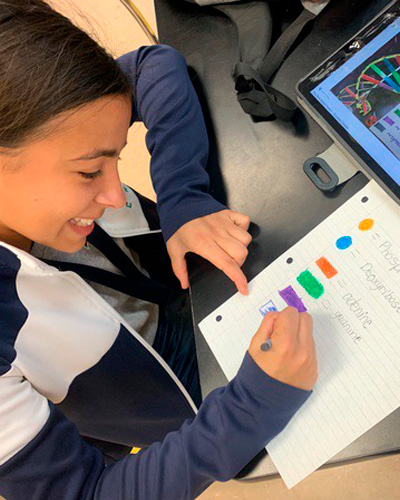 6th Grade through 8th Grade
Middle School years, grades 6-8, are filled with many changes and we are aware of that. Our curriculum is structured in a way to help each and every one of our students to thrive both academically and spiritually. Our goal is for students to be challenged academically, be critical thinkers, develop leadership skills, respect, perseverance and promote their personal talents.
Our Middle School students receive instruction through our iPad program.
Students are able to access most of their textbooks on the iPad as well as submit their work electronically. Teachers use the iPad as an additional tool for instruction. STREAM is incorporated into the curriculum. Our students are tiered in groups based on their academic achievements in order to ensure academic growth and properly challenge each student to fulfill their full potential.
Differentiated instruction is used at each level to ensure each student's needs are met.
Students are offered Specials such as Spanish, Art, Music and PE throughout the week. Middle School students also have the opportunity to participate in any of our sports including baseball, basketball, cheerleading, cross country and more. In addition, there are clubs such as National Junior Honor Society, Student Council, Media Team (7th & 8th grade students), drama & more.
Religion is a very important part of our education and is taught daily.
Our students are filled with age appropriate content which truly helps solidify a strong spiritual foundation to ensure a Christ-centered life in an ever-changing world. In addition to religion being taught daily, our students attend Mass every Friday.
Our students are very well prepared for High School and beyond.
For years, Immaculate Conception students have placed amongst the top at academic competitions. The foundation that is established at Immaculate Conception is well rounded and focuses on the student as a whole.
One of the beautiful qualities that Immaculate has is a true family environment.
Our families enjoy many events throughout the year where there is ample opportunity to strengthen relationships with our staff as well as other Immaculate families. Our environment and staff ensures that all of our students and families feel safe and welcomed here.